Find out what race announcer and Moore Performer, Jay Luke's once in a life time moment is.
What's something we didn't know about you?
When I was younger and let me tell you that was a quite a while back LOL. I used to Race 750cc class motorcycles. I was lucky enough to race all the tracks in the UK, Isle of Man and the majority in Europe. Now I just ride around Centennial Park and not as fast let me tell you!
When did you start commentating? What was your first race?
I first picked up the mic in December, 2015. The event was Elite Energy's Tri Callala at Callala Beach, one of my favourite races down on the South Coast. I was racing that day and was asked to chat on the mic after I had finished. I've never looked back! 😊
How did you get into it?
Here's the funny thing … I can't actually remember the circumstances that led me that day in Callala to get on the mic. Ask Emo from Elite Energy he may remember, but whatever it was it was a right result for me!
Memorable moment?
When myself and the team work at a full distance Ironman there will be three announcers and we rotate all day from 6am until midnight. My wife Mackerz (Paula – pictured below) was racing UK Ironman in Bolton in 2018 attempting to qualify for Kona that year. That day I had a 33 per cent chance of being on the mic when she crossed the finish line and literally 10 mins before Mackerz was due to finish it was my turn. Whilst I have called thousands of athletes over the line and said those four words calling Mackerz home 'you are an Ironman' that day will be ingrained in my memory forever. A real once in a life time moment for me.
Which is your favourite race?
Without a doubt my favourite race has got to be BIG Husky in February in Huskisson, Jervis Bay! Not because it's our biggest event but what this event represents. It brings together all of our athletes from across the season and it's hugely supported by the town and its residents. It truly represents what the sport and community is all about.
The event offers a plethora of race options from beginners to professionals athletes. Plus we've got a house there so it's always an awesome weekend and a race home from home.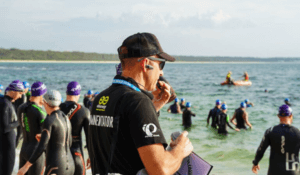 How do you prepare for an event?
That's a great question as many people think we just talk on the day, this in definitely not the case. Not only do I announce at the event I run all the music and the sound systems on the day at our OZ events.
Preparation starts weeks out from each event with promotion posts on all social media platforms with photos and short showreels put together in the final week before the race.
I also prepare an overview of all the race statistics, stories, info and any birthdays on the event date. At the Ironman events I am responsible for running all the Ironkid Races in the UK, Ireland and Wales, all the professional athlete information and the introduction of them on the start line on race morning.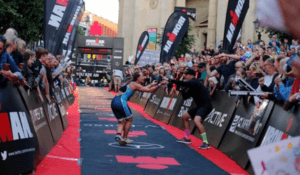 What lessons did you learn from your early events?
I was literally learning from minute one on day one and still learn to this day at every event. The key is not to talk all the time but still create an atmosphere. Don't get too excited, it's a long day and you can potentially lose your voice (I have twice in five years). Let the music, crowd and atmosphere that we create work for us. But most importantly of all HAVE FUN and everyone else will on the day too!!
Funny story from an event?
There are many funny moments I've experienced in the past five years on the mic but one particular race and moment stands out from the rest. Last year at Ironman Ireland Cork located in "Youghal" I was located on the now famous location "Windmill Hill". Now this was a super steep hill that literally 30 per cent of Athletes were having to walk up it.
It was pouring with rain and an athlete was walking up the hill with his bike. As he passed me he pulled out a vape and started vaping while pushing his bike up the hill, absolute GOLD! Someone filmed this and it's worth watching with over one million views now!!
Memorable quote/catchphrase to keep you going when you find it tough?
Without sounding like a cliché … when my energy levels start to dip I think of the athletes out there on course still battling their way back to the finish line. We never know all their stories but when they reach us in victory alley it's our job to make them feel super special. Either with the call home and or those words of 'you are an Ironman'. These are the words I think in my mind all day until we bring everyone home to the finish line.
What was your favourite MP moment?
Getting this email from you Danny asking me to provide my announcer profile!! 😊